In 2012, Mike Rhode asked a bunch of other sketchnoters, including myself, to contribute sketchnotes about how we sketchnote. Fifteen of us joyfully added our perspectives to Mike's awesome Sketchnote Handbook.
And then, at the end of 2013, he got in touch to let us know that the Sketchnote Handbook was going to be printed in German, and we were again invited to contribute. Many of us very quickly agreed, and I'm excited to tell you that it's available now: Das Sketchnote Handbuch by Mike Rhode and translated by Claudia Herling.
My contribution to Das Sketchnote Handbuch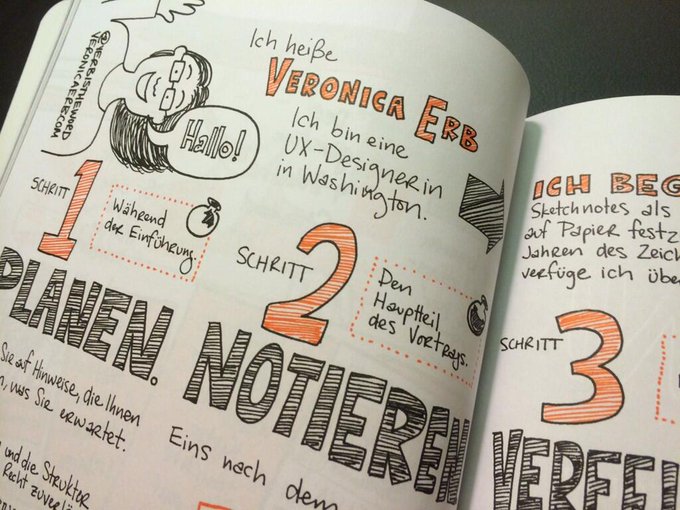 I admit, the German version of my two-page spread was more fun to complete than creating the English version, which took care of the difficult parts of figuring out what to say and how to say it. For the German version, I also got to work with the awesome translator who did the whole book. Her name is Claudia Herling, and it was so rewarding collaborating with her.
Besides that, I had the pleasure of a one-to-one comparison of how far my illustration skills have come. I completed the German illustration fifteen months after the English illustration, and you can see how different they are. Both the block letters and the illustrations are more confident, and the composition as a whole is tighter, despite the layout being the same.
Sketchnoting is the primary way I practice drawing, so the improvement illustrates just what effective deliberate practice sketchnoting can be.
Be warned: It's an illustration
Please very carefully note that both English and German contributions are illustrations, not sketchnotes. Since words can mean different things to different people, let me be clear: When I say sketchnotes, I mean live, hand drawn records of someone else's presentation.*
These illustrations were anything but live—I drew and redrew, scanned, printed, drew again, rescanned, Photoshopped, and cut and pasted before each one was completed. I didn't need as many iterations in the German version, but as you can see in the photo above, there's more work in that illustration than the marks you see in the book.
The example sketchnotes throughout the Handbook, on the other hand, are more likely to be created live. Check them out to see what many of us do when we're under pressure.
When you take a look at the featured sketchnoter contributions in the Sketchnote Handbook, however, remember that none of these flowed directly from our brains to pen to page. Though this makes them excellent at communicating our ideas, they're optimistic compared to the reality of "live" sketchnoting.
Go try it out!
Whether you prefer English or German (or Russian, or Chinese or Czech, which are on their way), please do pick up a copy of Mike's awesome handbook. He's got a ton of great advice about how to use this fun, challenging, and rewarding skill.
PS: In case you're in the US: You can also order Das Sketchnote Handbuch through Amazon.
* I've started to realize that this isn't exactly how Mike (and others) use the term "sketchnotes." Since it's Mike's term, I don't want to be so bold to restrict its meaning, but on the other hand, I don't want to muddy things up by willy-nilly suggesting another. Hence, the clarification above!